Advance Praise for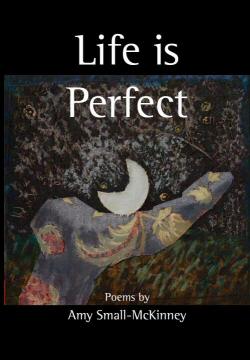 I have admired the poems of Amy Small-McKinney for years.
She searches difficult regions and returns with wisdom and wonder.
This she renders with concision, accuracy and brilliant language.
She is one of the best poets we have.
Leonard Gontarek
Author of Zen For Beginners
In the title poem of Life is Perfect, Amy Small-McKinney, tells her daughter "we have to love what we are given – /the molecules or atoms that stabilize into ourselves." This is poetry that is atomic. Each poem quietly explodes on the page till you're watching a sparkler unfold its clusters of stars, so many linguistic excitements going on at once, you grieve each poem's end but can't wait for the next one to ignite. But the poetry here is atomic in another sense as well; it embraces life at its most essential, perfect in its imperfections: the tent kept in the living room, huge, questionable birds, Lemon Boy Hybrids, Bloodroot, unruly grass, the voices of the Rift Valley, of Merewala, of Bombay, Aunt Henrietta's Art Nouveau – Jugendstil, massive burritos, stuffed with "seasonings we haven't tasted before." In Life is Perfect we are offered spices we haven't tasted before, a feast we will never forget, poems whose adventures make us braver than we thought we could be – and wiser too!
In Life is Perfect, Amy Small-McKinney explores the inner and outer psychological landscape of family relations and our own connections to each other and ourselves. In luminous lyrical language, she proves she is a master of surrealistic leaps and startling metaphors. Her poems are haunting, often with a rare and rich thought-provoking layered quality but always emotionally truthful and with a purity of spirit that makes one want to return to these poems again and again. Small-McKinney is an exquisite poet and Life is Perfect is one of the most beautiful books of poetry I have read this year.